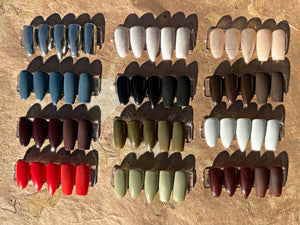 Single Colors
---
All single colors are hand painted on full cover, soft gel tips and created with high quality gel products only.
These sets are made to order, meaning that the color is available to order but the set still needs to be made. Please allow 2-6 weeks to create and ship your order. Orders may be fulfilled quicker but please note that this is just an estimate and can take longer depending on how many orders we have at the moment. For quicker fulfillment, purchase a sizing pack to narrow down the amount of nails that need to be made.
Note: If you have ordered in the past or know your measurements, you can add a note when checking out with the nail shape/length you have already sized in your custom sizes. All nail styles size differently so if you're trying out a new style, a sizing pack is recommended. Please list both the left and right hand sizes, from thumb to pinky.